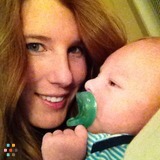 Babysitter, Daycare Provider in Tipton
Hello everyone, my name is Jessie! I have been in
Childcare
for 5 years. I started out as a personal nanny for a lovely family with three children under the age of 5. Soon after I wanted to experience larger groups of children, that's when I went to Kindercare. I worked for Kindercare for 3 years and learned so much from my experience as a teacher. I taught the age range of 2-4, and found that I love to work with children so much that I want to continue to do so. I soon left Kindercare when I found out I was pregnant, and had a beautiful son. Now that he is 2 months I want to get back to
Childcare
and have discide to open my home to 2 or 3 kids,in the age range of 3-4. I have beautiful country home just south of Kokomo. Plenty of space for a few kids to stretch their legs and minds. Before I make this sound like a babysitting set up, I want to tell you my expectations for the care of the children and what I want them to get from this experience. Education, Nutrition, and Basic Skills, these three things should be applied in every child's life and I would expect nothing less for my son, when sending him to a
Childcare
facility. For example... alphabet, counting, writing their name, knowing their address, manners(please and thank you), potty training, artistic skills, and many more skills, the possibilities are endless. If this sounds like a great opportunity for your child please give me a call at
. Prices vary with how many days a week.
Babysitter, Daycare Provider Details
Email Address

Confirmed

Phone Number

Confirmed

Type of Provider
Individual
Gender
Female
Years of Experience
5
Maximum Number of Children
3
Age Groups
Toddler (1-3 years)
Early School Age (4-6 years)

Training
CPR
First Aid

Services Offered
Daycare
Babysitting
Children's Crafts

Other
Own Transportation
Non-smoker
Comfortable With Pets

Notes made here will only be seen by you. If you want to message the owner of this listing
More in Tipton, Indiana
Babysitting How-To Guide
Learn everything you need to know about getting a babysitter job and then doing it well.
×
Jessie Culp 5 Years Experience!