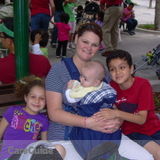 Michele Mili
Christian daycare provider
Babysitter · Daycare Provider
Looking for Families in San Bruno, CA.
Last seen over a week ago.
Sitter in San Bruno
Michele's Happy daycare offers children of all ages a Christian setting in which to grow , to learn, and to develop in a physical, spiritual, intellectual, emotional and a social person by: * Encouraging the development of each child, helping him/her to feel secure in their environment and in the love of God. *Encouraging each child in self confidence and teaching concern for others by encouraging cooperation in work and play and fostering a spirit of sharing. *Teaching age appropriate simple Christian truths related to the child's experiences and level of development. * Encouraging the development for motor skills through the use of play, art, dance and exploration. Michele's Happy daycare is a licensed family daycare with more that 15 years experience with infants, toddlers, preschoolers,and young children. I am a former nanny/preschool teacher, I speak fluent French, some Arabic and Spanish. I am registered with the
Childcare
coordinating Council (4C's), accepting all subsidized
Childcare
programs. I am First aid/CPR certified, fingerprinted and background checked through the Community Care licensing Department. I have excellent references available upon request. Thank you for considering me for
Childcare
. Sincerely, Michele
Sitter Details
Email Address

Confirmed

Phone Number
650-271-...

Confirmed

Zip Code
94066
Years of Experience
15
Provider Type
Individuals
Age Group
Newborn (0-12 months)
Toddler (1-3 years)
Early School Age (4-6 years)
Primary School Age (7-11 years)
Preteen/Teenager (12+ years)

Availability
Full Time
Part Time
Full Time Summer
Part Time Summer
Occassional

Duration
Long Term
Short Term
Summer Only

Services
Daycare
Babysitter
Light Meal Preparation
Children's Crafts

Training
Cpr
First Aid
Early Childhood Educator

General
Special Needs

Hourly Rate
$10.00

Sitter Own Transportation
Yes

Number Of Children
6

Twins/Multiples
Yes

Notes made here will only be seen by you. If you want to message the owner of this listing
More in San Bruno, California
Babysitting How-To Guide
Learn everything you need to know about getting a babysitter job and then doing it well.
×
Michele Mili Christian daycare provider