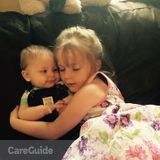 Babysitter Job in Winston Salem
Hi Everyone! I am the stay at home mom of a 5 year old daughter and 8 month old infant son. My husband and I would like to start going out once or twice a month date nights and need a reliable, responsible babysitter. I have not had anyone outside of family watch my 8 month old and that is where the mothers helper comes in. We are looking for a very part time mothers helper( can work around almost anyone's schedule) for up to 5 hours a week maximum. This is a great way to interact with my kiddos ,learn their personalities and get comfortable with their routine. Then in a month or two we can transition to just date night sitting. My requirements are experience with children ideally infants, CPR/ first aid training and infinite patience:) If you are interested please contact me and we can proceed. Thank you
Babysitter Job Details
Email Address

Confirmed

Phone Number

Confirmed

Preferred Applicants
Individuals
Hourly Rate
$14.00
Required Experience
2 years
Number of Children
2
Ages of Children
Newborn (0-12 mont)
Early School Age (4-6 years)

Training
CPR
First Aid

Services Required
Babysitting
Light Meal Preparation
Children's Crafts
Light Housekeeping

Other Requirements
Non-smoker

Notes made here will only be seen by you. If you want to message the owner of this listing use the Send Message button above!
More in Winston Salem, North Carolina
Babysitting How-To Guide
Learn everything you need to know about getting a babysitter job and then doing it well.
×
Ashley Leshin Mothers helper and date night babysitter for my kiddos!