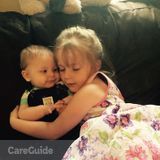 Ashley Leshin
Mothers helper and date night babysitter for my kiddos!
Babysitter Job
Looking for Sitters in Winston Salem, NC.
Last seen over a week ago.
Family in Winston Salem
Hi Everyone! I am the stay at home mom of a 5 year old daughter and 8 month old infant son. My husband and I would like to start going out once or twice a month date nights and need a reliable, responsible
Babysitter
. I have not had anyone outside of family watch my 8 month old and that is where the mothers helper comes in. We are looking for a very part time mothers helper( can work around almost anyone's schedule) for up to 5 hours a week maximum. This is a great way to interact with my kiddos ,learn their personalities and get comfortable with their routine. Then in a month or two we can transition to just date night sitting. My requirements are experience with children ideally infants, CPR/ first aid training and infinite patience:) If you are interested please contact me and we can proceed. Thank you
Family Details
Email Address

Confirmed

Phone Number
336-422-...

Confirmed

Zip Code
27127
Years of Experience
2
Preferred Applicants
Individuals
Age Group
Newborn (0-12 months)
Early School Age (4-6 years)

Services
Babysitter
Light Meal Preparation
Children's Crafts
Light Housekeeping

Training
Cpr
First Aid

Hourly Rate
$14.00

Sitter Own Transportation
Yes

Number Of Children
2

Notes made here will only be seen by you. If you want to message the owner of this listing
More in Winston Salem, North Carolina
Babysitting How-To Guide
Learn everything you need to know about getting a babysitter job and then doing it well.
×
Ashley Leshin Mothers helper and date night babysitter for my kiddos!