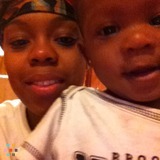 Magdelayna Govan
Energetic, Loving, Caring, Responsible Person
Babysitter · Nanny
Looking for Families in Columbia, SC.
Last seen over a week ago.
Sitter in Columbia
Hello you guys my name is Maggie I am a part time college student just looking for a babysitting job until I start and also during College.... I worked at a daycare in New York for about two years..Also I have done babysitting in Columbia, SC for about a year during school.... In the daycare we had autism and artistic children... I went on trips to the library, amusement parks, museums, farms and etc... I have a good amount of experience with kids. I have a 1 year old of my own and over 12 cousins, family and friends children I have babysit for the past 9 years.. Children love me and also parents, education is first to me... I love to do math and reading assignment with my children... I love to go to museums and farms and historical places to learn more myself and also teach my children.... Rates are negotiable if you are interested... I will prefer the children come to me... I live in a family oriented house with 2 small dogs who stays in my back yard... I also love to conduct field days for the kids.... I'm 23 years old full of energy and knowledge... You may contact me at my email address..... text or call at
803-369-...
.. My hours are Monday thru Friday (6am until 10pm), Saturday (7am until 12 midnight), Sunday (8am until 6pm) My ages are from 6 weeks until 13 years old... I provide breakfast, lunch, dinner and also 3 snacks in between...
Sitter Details
Email Address

Confirmed

Phone Number
803-369-...

Confirmed

Zip Code
29223
Provider Type
Individuals
Age Group
Newborn (0-12 months)
Toddler (1-3 years)
Early School Age (4-6 years)
Primary School Age (7-11 years)
Preteen/Teenager (12+ years)

Services
Nanny
Babysitter
Light Meal Preparation
Children's Crafts
Light Housekeeping
Pet Care

Training
Cpr
First Aid

General
Special Needs

Notes made here will only be seen by you. If you want to message the owner of this listing
More in Columbia, South Carolina
Babysitting How-To Guide
Learn everything you need to know about getting a babysitter job and then doing it well.
×
Magdelayna Govan Energetic, Loving, Caring, Responsible Person