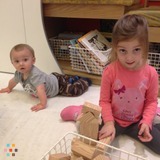 Babysitter Job, Nanny Job in Etobicoke
Part time Nanny Job in Etobicoke Hi there! I work at home and I am looking for a part-time nanny for my 2 children. My daughter is 3.5 and my son is 10 months. Ideally it will be someone who will come for 9am -12pm, 4 days a week (Tuesday-Friday) to play with the children and take the for walks to the park when the weather is nice. I prefer an experienced person who loves to make crafts and can help with some light house cleaning. SERIOUS INQUIRIES ONLY PLEASE. Please email me your details and salary expectations to
. EXPECTED START DATE IS 1 FEBRUARY- bus stop is only 6 min walk from the house and the closest main intersection is renforth and burnhamthorpe.
Babysitter Job, Nanny Job Details
Email Address
Phone Number

Confirmed

Number of Children
2
Ages of Children
Newborn (0-12 mont)
Toddler (1-3 years)

Services Required
Nanny
Babysitting
Children's Crafts
Light Housekeeping

Notes made here will only be seen by you. If you want to message the owner of this listing use the Send Message button above!
More in Etobicoke, Ontario
Babysitting How-To Guide
Learn everything you need to know about getting a babysitter job and then doing it well.
×
Emma Kirk Morning Nanny - sitter needed for 2 great kids!