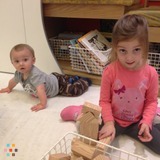 Babysitter Job, Nanny Job in Etobicoke
Part time Nanny Job in Etobicoke Hi there! I work at home and I am looking for a part-time nanny for my 2 children. My daughter is 3.5 and my son is 10 months. Ideally it will be someone who will come for 9am -12pm, 4 days a week (Tuesday-Friday) to play with the children and take the for walks to the park when the weather is nice. I prefer an experienced person who loves to make crafts and can help with some light house cleaning. SERIOUS INQUIRIES ONLY PLEASE. Please email me your details and salary expectations to
. EXPECTED START DATE IS 1 FEBRUARY- bus stop is only 6 min walk from the house and the closest main intersection is renforth and burnhamthorpe.
More in Etobicoke, Ontario
Babysitting How-To Guide
Learn everything you need to know about getting a babysitter job and then doing it well.
×
Emma Kirk Morning Nanny - sitter needed for 2 great kids!