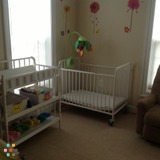 Daycare Provider in Woodbridge
Hi My name is Maria: I'm a home child day care provider. I'm relocating my day care from Alexandria to my beautiful new hone near Occoquan. I will now be able to provide ever better service than ever before. I would like to offer my child day care service to you. Virginia StateLicensed since 2004.Bachelor's degree in Child Education. Serving infant, Toddler and preschoolers. Providing service for more than 20 years. Healthy lunch menu and snacks served daily. Bilingual Spanish and English environment , safe loving and nurturing environment . Charter member of Virginia Preschool Initiative, participant in Virginia Star Quality Initiative . Preschool program available. Open Monday through Friday 6:00 am to 6:00 pm (FLEXIBLE HOURS )CPR & FIRST AID.GREAT REFERENCES .GOOD AND AFFORDABLE RATES ,. MY GOOL IS YOUR CHILD RECEIVE QUALITY CARE AND FULL ATTENTION. Feel free to contact me with any questions and/or to visit..... IF YOU NEED MORE INFORMATION PLASE EMAIL ME at :
More in Woodbridge, Virginia
Babysitting How-To Guide
Learn everything you need to know about getting a babysitter job and then doing it well.
×
Maria Miller Sammy's Home Child Day Care