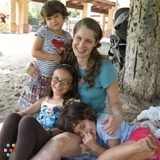 Babysitter, Nanny in South Pasadena
My experience includes the following: 6 years retail 15 years Nanny/child-care 12 years Massage Therapist 2 years Skateboard Coach! I am looking for after school/evening shift as I still do home visits for massage in the night-time. I'm great with kids & pets. Light cleaning & cooking is okay. My Jeep Cherokee is very safe. Several references given happily upon request!!! THANK YOU!!! ~Star
Babysitter, Nanny Details
Email Address
Phone Number
Years of Experience
15
Specialized Experience
Twins/Multiples
Special Needs
Sick Children

Maximum Number of Children
6
Age Groups
Toddler (1-3 years)
Early School Age (4-6 years)
Primary School Age (7-11 years)
Preteen/Teenager (12+ years)

Training
CPR
First Aid
Early Childhood Educator

Services Offered
Nanny
Babysitting
Light Meal Preparation
Run Errands
Laundry
School Pick-up and Drop-off
Children's Crafts
Light Housekeeping
Swimming Supervision
Pet Care

Other
Own Transportation
Non-smoker
Comfortable With Pets

Notes made here will only be seen by you. If you want to message the owner of this listing use the Send Message button above!
Morningstar Harmon's Other Listings
More in South Pasadena, California
Babysitting How-To Guide
Learn everything you need to know about getting a babysitter job and then doing it well.
×
Morningstar Harmon Super Nanny