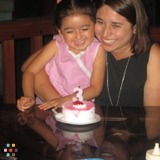 Babysitter, Daycare Provider, Nanny in New Haven
Hi, I really love children, I enjoying with them, I have experience with children and I can teach spanish and painting too. Let me take care your most value thing in the live, your child.
Babysitter, Daycare Provider, Nanny Details
Email Address

Confirmed

Phone Number

Confirmed

Hourly Rate
$15.00
Years of Experience
5
Specialized Experience
Twins/Multiples

Maximum Number of Children
3
Age Groups
Newborn (0-12 mont)
Toddler (1-3 years)
Early School Age (4-6 years)
Primary School Age (7-11 years)
Preteen/Teenager (12+ years)

Services Offered
Daycare
Nanny
Babysitting

Notes made here will only be seen by you. If you want to message the owner of this listing
More in New Haven, Connecticut
Babysitting How-To Guide
Learn everything you need to know about getting a babysitter job and then doing it well.
×
Alexandra Samaniego Take Care Children With Love