Environmental Crafts for Kids
August 7, 2012
Making crafts together is a fun, creative way to spend time with your kids. With eco-craft projects you have the added benefit of repurposing materials from your own recycling bin and storage spaces. This means fewer expenses at the craft store and more time teaching your kids the lighter side of the three Rs.
Reusing items like old milk cartons and worn t­-shirts can help kids learn to think twice about the way we use resources, and encourages some out-­of-­the-box thinking to address environmental issues in a productive way. Crafting isn't just a way to pass a rainy day anymore; it can help sow the seeds of a new generation of do­-it­-yourself ingenuity! Check out some of our favourite ideas for giving new life to some common items you may have lying around your home.
Empty 2L milk or juice cartons are a gem when it comes to eco-­crafting, and with just a few simple materials can be transformed into one-­of­-a­-kind bird feeders that not only look great, but help out our feathered friends. Experiment with different types of seeds to see who comes calling for tasty snacks like sunflower seeds, peanuts or safflower chips, and use a bird guide to help your children identify their new neighbours. These feeders attract local songbirds and sometimes even opportunistic squirrels and chipmunks. Milk carton bird feeders are ridiculously easy to assemble, here's how:
Cut a window in the side of the carton

Decorate with non-­-toxic paints, stickers, or collages from old magazines

Add a wooden chopstick or pencil for a perch

Fill with birdseed and hang it up!
Everyone has an old t-shirt stuffed in the back of a dresser drawer that rarely sees daylight, but is too dear to be given away. Consider revitalizing your family's well­-loved garments by transforming them into funky and functional totes for shopping trips. This project not only reuses an old item but also reduces our need for disposable plastic bags.
There are many different patterns for turning T-shirts into totes, but most require very little sewing. In fact, most patterns require only one simple line of stitching to sew the bottom hem of the shirt closed. Once your bag has been assembled, your children can decorate it with badges, pins, patches and buttons.
A fresh herb garden is something apartment-dwelling gourmands fantasize over. But if you have a few old cans in your recycling bin, you're closer than you think to bringing the garden into your home! Consuming locally grown produce like herbs is one of the most effective ways to reduce our environmental footprint—and it doesn't get much more local than your own balcony or windowsill.
Clean a few empty cans from your recycling bin

Poke a few holes in the bottom of the cans using a screw or nail for drainage

Decorate the cans!

Place a few pebbles at the bottom of the can, and fill with potting soil

Plant herbs found at your local garden centre.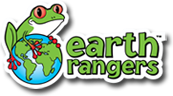 This guest post has been provided by Earth Rangers, a non-­profit organization whose mission is to educate children about the importance of biodiversity and empower them to protect animals and their habitats. To learn more, visit EarthRangers.com.