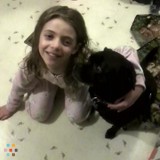 Rachel L
Experienced, fun woman to watch my 9yr old for a few hours while I work
Bradford, Vermont
1 year experience
5/hr
Want to be hired by Rachel?
Sitter Job in Bradford, Vermont
Hello, to whom it may concern, My name is Rachel and I have a 9 year old who goes to school and the After school Program Monday - Friday, except on the days I have off from work, they vary, she doesn't need to be picked up until 5:15pm, so you would need to have a license, a vehicle that is legal and safe to help me out while I am out of town working. I would like you to help out as follows: 1.) Pick her up at school at 5:15p, she doesn't like being picked up early because she is having fun and the school complains 2.) Make sure she checks her book bag for homework or anything that needs to be signed 3.) Make sure she checks on Brownie, her Guinea Pig for fresh water, more food, snacks and clean his cage, if needed-She knows what to do and where everything is 4.) Make her dinner 5.) Make sure she takes a shower while dinner is being made 6.) We always watch a movie with dinner, it helps us relax before bed and enjoy our meal 7.) Make sure she brushes her teeth, gets her clothes out ready for the next school day, and gets ready for bed 8.) She likes to read and be read to, she usually starts a book and then has me finish it-or the chapter 9.) She's allowed to watch a movie, of her choosing, while she's in bed for the night. Unless you want to do something else before bed, like a game of scrabble, card game, draw, color. She mostly is asleep before the movie is over or says she's tired and will want to finish the game/art project tomorrow and then passes out...Before 10p. For an example: This looks like $10 a day...So $50 a week. (No school days, in the middle of a regular school week, will be $10 extra, for that day. So you would get your original $10 but you'd also get another$10. So you would get $20 for that day. If she's sick then we can discuss how serious it is and decide if I should take a day off from work or if you can handle it, if that is the case,you will get paid like if she had a day off, so it would be the $20. There will be times you will need to give her Tylenol for either head aches or leg pains and you will need to keep written documentation. Her Dr says it's growing pains in her legs. Sometimes I can rub it out, it's in one of her knees, but usually it hurts so bad I have to do both Tylenol and rubbing. She complains of a sharp pain in the back of her head, the Dr says to keep documentation of when she complains of it. Her Dr says it's stress related because of me working and our situation. So her Dr says to make sure she does something relaxing, something that's calm like draw or read or play. I call her on my breaks, my Dad's phone doesn't hear my ring, so I would need your number, if you have a cell, so I can talk with her. Soon I will be getting her a cell phone to keep in touch and so she can call her friends. But in the mean time, it's on you. I also have pets. I have a dog, she's medium sized and 4 years old, and my 9 year old has a Guinea Pig, he's a year old and some change. So must love animals. If you can help take care of my dog, then I won't have to hire a pet nanny too ;) lol And I'll pay you more!! To help take care of my dog, if you are interested, this is the explanation of my situation: I have a dog, she's 4 years old, Pug/Bulldog/Beagle mix. I'm in the middle of training her to be a Companion dog, for an E.S.A.(Emotion Support Animal), but I just started a job and I'm home 2 days of the week due to transportation issues, so I stay close to work. I don't have much time to train her and my Dad works too much to pay a lot of attention to her. Our life is getting better but there's a bump in the road so to speak. So I just need someone to help out until I'm home more, in Bradford, VT. I'm trying to get on my feet right now and my dog is missing me so much. I just need someone to take her out for potty, make sure she has cold/fresh water and her food bowl is full. Also a walk would be great too. I get paid Bi-Weekly, so when I get paid, you get paid. We can discuss payment, I had to put some kind of money form down because they wouldn't let me leave it blank until we discuss it I'm not expecting the help to be free, but I want to make sure that we both can be comfortable with the payment plan. I'm looking for a 2nd job, so I'll be able to afford our new life. My name is Rachel. I haven't quite figured this all out, but if we could discuss this and come up with a plan, that would be great! When you call, please leave me a good time to call you back and a number that works. Also, you must be willing to come to my dog. As I have no transportation right now. Thank you for your time ;)For example: This looks like $5 to help out with my dog a day...So $25 a week. Also, when you cook for my child, you are more than welcome to eat that food as well. I know that some rules are that you're not supposed to, but under these circumstances, you will earn it, and I will expect you to eat the food you prepare for my child, it's part of helping out, but you are more than welcome to bring your own food if there are things you must have or want to have that we do not have in our home. I will understand. I am on a special diet due to my health, not because I want to, so you don't need to cook for me ;) For example: It looks like you would be getting $75 a week to take care of my 9 year old and my dog-Abby and all the responsibilities included. Lets round that up to $80, it's easier for me to pay that way. And I will only pay with cash or Money orders - which there will be a paper trail receipts for each payment where you and I get a copy.You will need:Your own reliable, legal transportation, have a clean record, updated references, female, Flexible, Open communication, Honest. Please have these answered: •What kinds of activities would you do with my 9 year old? •How would you handle a my child's crying or a temper tantrum? •Are you interested/able in taking my child to programs in the area? •When do you think it's safe for my child to be unsupervised? •Are you comfortable/willing to work on homework with my child? •Do you enjoy reading books to children; name a few favorites. •Would you describe yourself as artistic, athletic or both? •Are you confident and willing to cook for my child? •Are you trained in First Aid? •What would you do in the case of a blow to the head? •What would you do if my child is choking? •How would you treat a high fever? •Do you have a driver's license? •Do you have a car (rear seat belts)? •When would you be available to start a new position? •What salary are you seeking? •Are you willing/able to make a one-year commitment? *Are you willing to travel if I move out of the area? •Can you provide two current references with phone numbers? •How do you feel about a trial period, how long should this be? •What hours do you expect to work each week? •What are your holiday expectations? *Do you have a reliable cell phone? *Do you agree to watch just my child? *Do you agree to watch both my child and my dog? * If yes, are you willing to take my dog for short walks and use the training I show you? * Are you willing to work with my dog with the training techniques I show you when you have time? Please call me or email me at.. A.S.A.P. Rachel 802-222-... ...@yahoo.com With your name, these questions answered-just copy and paste the questions and then put your answers under the questions so I know what the answers go to. It's a questionnaire to help make sure everything is answered. Because we all know how nerve wracking meeting someone for the first time can be and how exciting it can be as well. That most of the time we don't ask or say what we need to at the time. Please feel free to ask me any questions as well and when I have the time to answer I will. Have a good day/night P.S. You can bring your children, if needed, as long as everyone is treated with fairness and there are no favorites.
---
Required Experience
You can look after:
1 child
Ages include:
Want to be hired by Rachel?
---
Services Needed
Your responsibilities will include:
Meal prep
Has own vehicle
Arts & crafts
Pickup & dropoff
Pet care
---
Required Qualifications
CPR
First Aid
Want to be hired by Rachel?
---
My Other Profiles

Rachel L
Looking for a Dog Sitter/Walker

Rachel L
I'm looking to housesit for you!

Rachel L
Need help cleaning your home?
Similar Profiles Nearby
Near Bradford, Vermont

Ezzedine F
Careful Sitter Needed

Madina S
Seeking North Woodstock Mother's Helper

Sparrow A
Sunday Morning Preschool Leader

samantha h
Looking for Partime daycare
Find Babysitting Jobs in Bradford, Vermont
More in Bradford, Vermont
Want to be hired by Rachel?
Similar Profiles Nearby
Near Bradford, Vermont

Ezzedine F
Careful Sitter Needed

Madina S
Seeking North Woodstock Mother's Helper

Sparrow A
Sunday Morning Preschool Leader

samantha h
Looking for Partime daycare