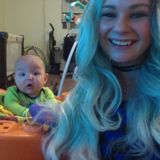 Ashley R
Needing a Full Time Nanny for our 8 month old Son!
Sitter Job in Bakersfield, California
Hello, we are a loving family seeking a Nanny for our son Trigger, he is 8 months old. He was premie but he is the most amazing/chunky little man. He is our angel! This job is mostly Full Time. I work out of state, so I'm home for 2 weeks and then will be gone from 7-14 days its vary's, my husband works as well, but in town. M-Thrs. 11am-6Pm & Fri. & Sat. 6pm-2am. And Sundays off. While I'am away I would like you to stay a hour or two after my husband get home so he can have some help with the baby, but this is not a requirment. When I return, I will still need you part time, Sometime I make trips to Fresno, but also will need light help when home "mothers helper" Only certain days a week, which will be scheduled in advance for you. Schedule wise we are flexible since we know this is a difficult schedule, Were really interested in finding a "Live In Nanny" Ether Part Time While I'm out of state ( so only for 7-14 days you stay here Besides Sunday. *Day OFF or you can stay ), or you can stay here full time ( Live here on your days off as well and come and go as you please, But still take being our sons nanny sersiouly! ). Or Not At All and we can work out a schedule. Job duties would include, Feeding, Clothing, Changing, Keeping Him on his schedule, Floor Play Time, Helping Learn new Physical, Mental, and motor skills, Reading, Indoor and outdoor activities. Sometimes you may need to take him to a appotioment. Also were wanting someone who is okay with Some house hold chores and some Errands that may be done. If you do not have a car we do have you will be allowed to use. When these Chores or Errands are needed you will be payed Extra. Chores include, Sweeping/Mopping, Dishes, some laundry, and occasionaly prepare dinner & Errands would include Picking up household stuff/Supplies and Grocery shopping when I'm out of town. Everything is negotiable. Most important thing is our son, we want someone who will love him, and give him a mothers touch especially when I'm away. Since Job is Full time and I would like it to be done at my home, you are more than welcome to sit another families Child. Preferably only 1 more, but I'm okay with 2. I just want to make sure my son still gets the care he deserves. I can't wait to hear from you! Please contact me at #661-472-... My name is Ashley, you can also text me or leave a message if I do not answer I will contact you back ASAP and set up a time to meet! :) Thank you for your time -xoxo The Rollins Fam!
Services Needed
Your responsibilities will include:
Share This Profile
Find Babysitting Jobs in Bakersfield, California
More jobs in Bakersfield, California