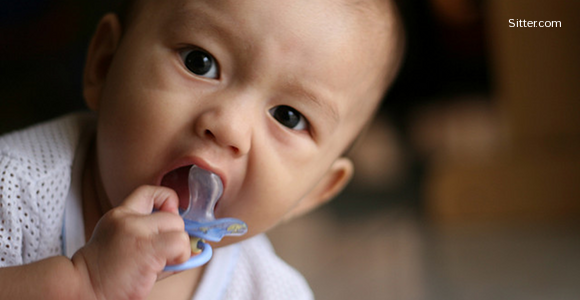 Pacifiers: Do They Suck?
by Ali Dinani

• July 12, 2012
Pacifiers can be a lifesaver, calming down a fussy baby almost instantly. But do they harm the baby more than they help the parents?
Pacifiers have been used since the the late 17th century, and since their introduction have taken the world of parenthood by storm. Over 50% of the parental population in the US have adopted the use of pacifiers to one degree or another.
The Good
Relaxation

As most parents are aware, pacifiers can calm a baby down during stressful moments. One of the common uses of a pacifier is to help a baby relax and fall asleep at nap and bedtimes.

Reduction of Incidence of SIDS

An added benefit of pacifiers researcher Jane Soxman DDS says, is assisting in the reduction of the incidence of Sudden Infant Death Syndrome, SIDS. Babies who are offered a pacifier do not sleep as deeply as those who sleep without a pacifier. Pacifier sucking makes it possible for the infant to be aroused from a deep sleep that could result in the stopping of breathing.

Distraction

Pacifiers can also be used an effective distraction. Many babies cry during medical procedures such as vaccinations and blood tests. Providing a pacifier to distract the child is an effective way of calming them down.

Disposable

Pacifiers are small and portable, thus easy to carry, to give to the baby or to take away. If a pacifier is not provided, many children will resort to sucking their thumbs or toes., a habit more difficult to break.
The Bad
Interferes with Feeding

Introducing a pacifier in the child's first month can result in "nipple preference." The child can actually prefer the pacifier to the breast or to the bottle. The easiest solution is to introduce the pacifier after the baby has adapted to breastfeeding or the bottle.

Dental Issues

Giving a child past their first couple years of age a pacifier, can result in several dental issues, one such problem being an overbite. This, like nipple preference, is easily avoidable. Simply begin weaning the child off the pacifier as they age.
The Sucky
Dependency

Continual use of pacifiers can result in a dependence. It is not uncommon to see 3 and 4 year olds using a pacifier.
The decision to use a pacifier — or not — is up to you.